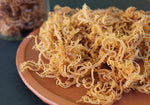 Benefits of Sea Moss
Click this link to Irish Moss Gel Recipe https://youtu.be/HnhIY6hm434
Sea moss, also known as Irish moss, red algae or Chondrus crispus, offers us a variety of health benefits. Sea Moss is a cell proliferating product, as it regenerates and rebuilds most cells in the body. It contains vitamins A, C, E, K, B1, and B12. This superfood contains a high content of iodine, calcium, manganese, zinc, bromine, iron and protein. Considerable amounts of magnesium and sodium phosphates can be traced. Sea Moss is low in fat and has a few calories, making it ideal for bodybuilders or those who are fasting. It's a healthy alternative to over the counter vitamin and mineral supplements because it is a rich source of vegetable protein, which provides a full spectrum of beta-carotene, chlorophyll, enzymes, amino acids, and fiber.

Sea Moss is an excellent beverage/food for weight-loss. As an emulsifier, it liquefies fat and mucus, making it easier to eliminate body fat. This superfood is rich in iodine and natural sea-cell-salts, which means it beneficial for iron-deficiency, anemia, strengthening of the glands, and balancing high or slow metabolism. It adjusts water levels, eliminates water retention in-and-around the organs and if mixed with flax-seeds, it is good for the prostate, bladder and all urinary tract ailments, as well as fortifying the reproductive abilities. Sea Moss is highly beneficial for healing the skin of eruptions, burns, scabs, wounds, eczema and premature aging. It can be used as a facial to restore elasticity and firmness to create new skin. Sea Moss is a pure product to make and consume. 
Sea Moss Benefits
Thyroid Health
Perhaps one of the most important and undervalued benefits of this sea moss is its ability to help balance thyroid hormones. Irish Moss contains the vital thyroid hormone precursor DI-Iodothyronine (DIT), and the thyroid hormones Thyroxin (T4) and Tri-iodothyronine (T3). If the thyroid doesn't produce these hormones as it should, this can have a detrimental effect on metabolism and many other bodily systems. These have been found to be the main organically bound iodine compounds in brown sea moss (Irish Moss). Irish Moss is also extremely high in the trace element iodine – the thyroid gland contains the highest concentration of iodine than any other organ in the body. You cannot make thyroid hormones without sufficient levels of iodine. Dr David Brownstein, a natural health practitioner with over 20 years experience in his field, found that over 95% of patients with thyroid disorders were iodine deficient. Whilst it is best to work with a practitioner who is knowledgeable about iodine therapy if a thyroid disorder is present, keeping your iodine levels up will go a long way to ensure a healthy thyroid remains that way.
Respiratory Health
Being a potent source of potassium chloride, this sea moss dissolves catarrh, phlegm and soothes inflammation of the mucus membranes to prevent congestion, helping to clear out the lungs of any phlegm that builds up with a common cold. Because of these expectorant qualities, Irish moss may help to prevent a common cold from turning into pneumonia and can treat other respiratory problems such as bronchitis. Irish Moss also has powerful antiviral properties, helping to prevent or treat a myriad of disorders such as flu, sore throats, chesty coughs and much more.
Minerals & Nutrient Dense

The human body is made up of 102 minerals and Irish Moss contains a whopping 92 of them. It also provides a wealth of other important nutrients including; protein, beta-carotene, B vitamins, pectin, vitamin C and sulphur. One of the most important of these nutrients is a sulphur-containing amino acid called taurine, which is more abundant in Irish moss than any other seaweed – a nutrient that is commonly lacking in vegetarian and vegan diets. It is an excellent immune boosting food that can be invaluable in the recovery from debilitating illness. Its high vitamin and mineral content make it the perfect food to replenish and revitalise the body after a long battle with disease.
Digestive Support
The high fibre content in Irish Moss exerts a mild laxative effect whilst soothing inflamed tissues within the intestinal tract, potentially providing relief from a whole host of intestinal disorders. It's demulcent properties promote healthy digestion – soothing the membranes of the digestive tract. The gelatin like content helps to ease gastritis, dyspepsia, nausea, heartburn and indigestion.
Weight Loss
Irish Moss is thought to help reduce the appetite due to its ability to absorb moisture, increasing its volume and filling the intestinal tract with a bulking type material, thus increasing the feeling of fullness. Its gentle laxative effect can promote the elimination process of waste through the gastrointestinal tract. The aforementioned iodine content can boost metabolism which in turn will increase energy and can help to accelerate weight loss. Regular consumption of Irish moss would help in keeping obesity at bay. Being a low calorie food item and rich in nutrients, it can make a great choice for all weight loss programs. Its prowess to absorb the moisture, improving its volume and fills the intestinal tract with its bulk material, thereby offering a fuller feeling to prevent you from binge eating and snacking. It also helps in eliminating the waste by passing it along the gastrointestinal tract. The rich iodine content in it accelerates the thyroid function, energy and promotes weight loss.
Suppresses Appetite
Sea moss is a great appetite suppressant due to its high concentration of minerals and its nutrient density. Most of us experience the uncomfortable sensations in our stomach when we have not consumed anything for a period of time. This discomfort may be coupled with weakness and cravings. This is the feeling that we know as hunger. Today we have many companies that create products to assist in the regulation and suppression of this hunger. Do your due diligence in researching what works best for you should you go that route. However, for the people that are looking to suppress their appetite in a more natural and healthier way, sea moss should be considered. When you process sea moss into gel form, it is easy to add as an ingredient with other foods and drinks. Due to its jelly-like consistency, when sea moss is consumed it passes through the intestines and soothes any inflammation as well as remove any toxins. Sea moss consumed regularly will help to eliminate cravings and as a result, bring the body back to its natural weight based on your level of activity and nutrition.
Promotes healthy Sexual Function
Due to the generous amount of zinc and other minerals that are vital for reproductive function and health, sea moss is great for anyone who desires an increased sex drive. Because of its anti-inflammatory properties, sea moss promotes circulation throughout the entire body especially our reproductive organs. For male readers who are experiencing difficulty with sex related drive, stamina, erection, and other abnormalities, then you should consider consuming sea moss regularly. For female readers who are experiencing a lack in desire, painful sexual experience due to dryness, feminine irritation, and anything else related to this particular topic, then a regular dose of sea moss may improve this situation.
Boosts Mental Health
Sea moss has high amount of potassium, which are essential for the smooth functioning of your body cells. As your body cannot conserve potassium, it is important for you to add sea moss in your diet to promote your mental functions and behavior. It also helps you to get a good relief from anxiety disorders, depression, fibromyalgia, agitation, moodiness and agitation. Irish moss also has Algin, which is a phytonutrient with an impressive therapeutic value that helps it to perform like a heavy metal detoxifying agent. This ingredient in the sea moss helps in removing the heavy metal residue from your body tissues.
Promotes Recovery
Irish moss can strengthen the connective tissues. This helps it to recover faster after a strenuous workout session or from surgeries, invasive procedures and serious injuries. It has several minerals and vitamins to help you recover from illnesses and diseases quickly by replenishing and supporting the immune system. The Irish moss also helps in quick recovery from debilitating medical issues like pneumonia and tuberculosis. As it maintains a nutrition rich profile, it helps people suffering from hypertension and arteriosclerosis recover much faster.
Improves Skin Health

The cosmetic industry considers the Irish moss as a wonder ingredient. It can help in preventing skin inflammation, varicose veins, dysentery and halitosis. It is also known as a skin protector and softer, which works by nourishing the skin by maintaining its hydration level. The sea moss also repairs the skin from various issues like rashes, psoriasis, sun burns and eczema. Using Irish moss as a beverage or as a topical application will provide an excellent hydration effect in the long term. This seaweed also protects the moisture inside the cellular walls to prevent it from drying. It is rich in sodium and can give you a face lift when you apply the gel on your facial skin.
Aids In Quick Digestion
Irish moss is loaded with rich fiber that makes it a mild and useful laxative. It can also soothe the tissues that are inflamed in the intestinal walls to offer good relied for all kinds of disorders. The demulcent properties that the sea moss has, helps in soothing the digestive tract mucous membranes. It also eases vomiting, gastritis, indigestion, dyspepsia, heartburn and nausea.
Prevents Radiation Poisoning
The iodine content found in Irish moss helps in curbing the side effects of the radiation therapy. It can be used in the diet of cancer patients to provide better relief. It also aids in the recovery from cancer and poisoning caused by radiation. This seaweed can absorb the toxic substances from bowel and make sure the radiation poisoning is flushed out from your system. The health benefits offered by Irish moss explained above would help understand why one need to incorporate it in regular diet.
Click this link to Irish Moss Gel Recipe https://youtu.be/HnhIY6hm434