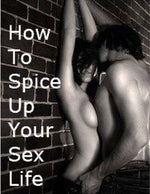 Different Ways to Spice Up Your Sex Life
Communication Is Key

Everyone has heard this advice a million times but it is of the utmost importance for anyone who wants to get the most out of their sex life — or their relationship in general. If you don't have communication, you're not going to get anywhere sexually. Talking bluntly about sex can be difficult but any awkwardness will be well worth it. Don't be afraid to tell your partner when it feels good and what turn you on. Of course, communicating sexual desires during the deed should be done delicately and any serious suggestions should be saved for a discussion outside the bedroom. Nothing beats the excitement of wild and kinky sex when the relationship is starting to slow down in bed. Talk about your fantasies and bring your kinky fetishes and lusty desires to life.
Get Inspired by the Past

This tip is particularly useful for couples who have been together for an extended period of time. If partners are trying to figure out the best way to add a little oomph, think back to what they used to do when they were first together. "Sometimes we start there so we can talk about 'Well why aren't we doing that now? Why can't we bring that back?'" The logic here is pretty simple: It worked before, it can probably work again.
Embrace Romance

As relationships age, the people in them often settle into a comfort zone. There is plenty that's great about the comfort zone but feeling desired and loved should not be sacrificed. Discuss what your ideas of romance are with your partner. Whether it's flowers, an at-home dinner, or dancing to a favorite song, planning a special night of romance is a pretty simple way to ramp up a relationship.
Be Creative

Remember, it's called arousal for a reason. "If you have meat and potatoes every day, it's going to get real boring and it's not going to work,". "So you have to keep it interesting and exciting to allow it to be arousing and pleasurable." For someone who really wants to spice things up, an erotic, exotic date where partners visit an adult toy store together, stop in for a couples massage, and end the night at a topless bar. That scenario isn't for everyone but it illustrates the basic idea, which is to liven things up.
Relax

Stress has a great way of ruining sex lives through both psychological and physical means. Not everyone can have the luxury of taking time off work and heading to the beach, but there are little steps everyone can take to get themselves more in the mood. Try a pleasure-focused evening in complete with music, a couples bath or shower, and sensual massage.
Add more foreplay
One of the best ways to have great sex is by focusing on foreplay. Spend 15 more minutes on making each other horny before having sex. Both of you will end up having better sex. Caress and compliment each other's bodies during those 15 minutes.
Surprise Them

Surprise your partner into a sexual high now and then. Surprise him by receiving him naked when he comes home, or tell him that you're not wearing your panties under the short skirt when both of you are out having dinner. One woman decided her surprise for her partner was a pair of silk boxers. It may seem silly but this woman and her partner were incredibly turned on by this gift and the suspense leading up to it. "It can be something as innocuous as that but that was enough to spice up their life,".
Make it Emotional

For most women, being spoken to in a romantic way is an important part of sexual arousal. Even for men, sweet nothings become increasingly important as they get older. "As men age the arousal is much more what I would call 'prefrontal cortex,' much more emotional,". Just basic compliments sprinkled throughout the day can make any partner feel more desired, which often translates to increasingly passionate reciprocation.
Educate Yourselves

This can be a challenging task for long-term couples if they've never done it but nearly everyone benefits from some sexual education. Watch DVDs that explain more advanced and exciting sexual techniques. Watching porn can help both of you get into the mood and have a better time making love while watching another couple making out on the screen.
Get in Shape

When we get down to it, sex is a bodily function. That means a healthy person is more likely to have successful sex than an unhealthy one. Having good cardiovascular health is especially smart, given that the vasculature down there is easily affected by poor conditions. Just having high cholesterol can trigger erectile dysfunction. 
Sensual Massages
Get naked and give each other a sensual massage without focusing on sex. Pleasure each other and let the fingers linger a while in the tingling spots. As long as the focus is on helping your partner orgasm, it'll make both of you feel good.
Think Beyond the Bed
There are many sexy places to get naughty besides the bed. Think kitchen, couches, bathroom, backyard, or a pool. Get innovative and the sexual rewards will be more pleasurable.
Don't wait for your partner to be around to seduce them. Send a few sexy photos in the middle of the day and tease your partner into wanting more when both of you get together at night.
Believe in the relationship. Nothing can tarnish your relationship as long as there's love and trust in the air. You may indulge in many kinky ideas or even go as far as swinging. But as long as there's love and trust, both of you can always find a way to rekindle the excitement of sex without losing each other. If you're only looking for ways to have better sex with your partner and not a way to cheat on your partner, then your relationship will definitely stand the test of time.