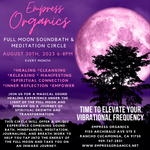 Full Moon Sound Bath & Meditation Circle
A full moon represents the completion of the lunar cycle. Emotions and feelings are heightened during this time, creating an opportunity to confront your shadows and move forwards. The moon is at it's biggest and brightest in the sky, symbolizing the culmination of the month gone by and illuminating the things that no longer serve you. The energy of the full moon is an opportunity to celebrate and express gratitude for the abundance in your life, to manifest the things you have worked towards and let go of the things holding you back. 
Join us for a magical sound healing experience under the light of the full moon and embark on a journey of spiritual growth and transformation. Bathe in the beautiful healing sound of: crystal sound bowls, gongs, drums, chimes, native flute and more, as you restore balance within your body, release old energies, and elevate your vibrational frequency.  A sound bath can be a powerful experience, sometimes resulting in the release of heavy emotions. It can also be an experience that brings extreme peace and clarity. Each of us is different and on our own unique path. Sound healing takes you on a journey that offers deep healing on a cellular level, cleansing negative energy and emotions, breaking old unwanted patterns of behavior and subconscious fears, and resetting the physical, emotional, and mental body into perfect peace and harmony. 
This circle will offer a unique experience combining Sound-bath, Mindfulness, Meditation, Journaling, and Transformational Breath-work to help you tap into the energy of the full moon and take you on an inward journey. Our sacred full moon circle is a safe space for people to lay bare their personal reflections to heal, connect, feel supported, and help others along their own journeys. They can take many forms, but their intentions remain unified: to harness the power of the moon to promote community, spiritual connection, and inner reflection. Everything that happens in circle remains privately in the circle, which allows everyone to truly open up, share, and be authentic.
During this full moon, we will spend time journaling about reasons you're grateful. Moon circles that draw on full moon energy help us connect with what we desire for our future. The full moon brings to light places of progress as well as areas where you might need to be more consistent to achieve your goals. The phases of the moon can bring to surface powerful emotions and provide an occasion to check in with our emotions. They can allow us to work through fears and gain clarity on what we want our future to look like. Gathering in the presence of others can help us process these emotions in what has long been considered a sacred space.
Throughout the evening, you will be surrounded by the energy of the full moon, which is a powerful time for manifestation, transformation, and releasing what no longer serves you. You will leave feeling grounded, centered, and connected to your highest self. Don't miss this unique opportunity to tap into the power of the full moon and connect with a like-minded community. We can't wait to share this transformative experience with you.
Different sound vibrations interact with our physical and energetic bodies in beneficial ways. Some benefits of sound healing include:
~ Activates Higher States of Consciousness
~Unlocks Blocked Emotions
~Relieves Anxiety and Stress
~Induces Complete Relaxation
~Promotes Deep Meditation
~Heightens Clarity
~Improves Ability to Concentrate
~Relieves Insomnia
~Decreases Depression
~Normalizes Blood Pressure
~Relieves Physical Pain
~Release Emotional Trauma
Please be sure to bring the following:
- Yoga Mat, Blanket
- Pillow
- Cushion to place underneath your knees
- Water
- Any crystals or sacred items you wish to cleanse/charge and anything that will make you feel comfortable.
-Wear loose comfortable clothing so you can relax more
-Be on time, arrive at least 5-15 mins early
-Turn off your phone upon arrival or put on DND
-Clear your mind, this is a form of meditation. 
-Be open to feelings that arise, Sound baths encourage you to drop into a meditative state that can bring up stuck emotions and sensations in the body.
-Take care of your body before and after the session. Use the restroom prior and after the experience, hydrate and get a good night's rest.
REGISTRATION IS REQUIRED. $25
To register go to Vagaro, EventBrite or our website www.empressorganics.net
If you have any questions call or text us at 909-767-2831