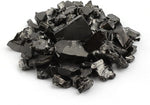 Shungite Healing Properties
The name Shungite was first used in 1879 to describe the high-carbon (98%+) mineraloids found in Russia near Shunga (in the Lake Onega area of Karelia). This high-Carbon variety of Shungite is the stone linked to claims of water purification and anti-bacterial properties. However, there are many other Shungite-containing minerals with much lower proportions of carbon. These vary greatly with the Carbon content ranging from less than 10% up to about 80%. The lower the percentage of Carbon, the lower the amount of fullerenes. Thus, the less likely the Shungite will live up to its reputation for healing and purification. A more pure form of Shungite called Noble Shungite, or Elite Shungite, is extremely rare and has a silver-ish tint on its surface. 
Shungite works to cleanse and align all the particles in the body so that they are open and in alignment with the light. It carries strong purifying, cleansing and detoxifying properties. It can be used to clear your body of any dysfunctional patterns, which in turn can manifest as negativity, emotional difficulties or even certain diseases. Shungite has vast amounts of healing powers that can help anyone in need. Place a couple Shungite stones on an affected area and you will see an accelerated resolution of the problem. If you are looking for a more full body healing, instead of concentrating on a particular area, simply hold or meditate with the stones. The Shungite Crystals are also very beneficial for relieving stress and anxiety, soothing insomnia and boosting your overall energy level.
Common Healing Properties of Shungite:
Facilitates astral travel
Aids you in feeling connected to all beings and promotes feelings of universal oneness
Create a protective energetic shield around your energy body
Defends against EMFs or psychic attack
Brings light to dark times in your life
Helps to regulate the temperature of the body during energy work
Energizes your body, mind, and spirit
Transmutes negative energy into positive energy
Soothes tired eyes
Energetically supports the reduction of pain and inflammation in the body
Scientists investigating Shungite declare as miraculous. Shungite is so important that one day it might well be worth more than gold.
Shungite is an ancient stone that contains all the elements of the periodic table in its composition. It's believed to be almost two billion years old. Shungite formed long before there was life on earth, deep within the earths crust. It carries within it valuable downloads about the earth's evolutionary process. Shungite is composed of mostly carbon, which is the universal building block for life as we know it. In 1996 it was discovered that Shungite is the only known natural mineral to contain fullerenes, a crystalline form of carbon and powerhouse antioxidant that neutralizes free radicals. Fullerenes are anti-everything harmful to us, including viruses, bacteria, fungus, pathogens, fluoride, chlorine and so much more, and they are only found in Shungite. The main deposit of Shungite on earth comes from Zazhoginskoye near Lake Omega in the Shunga region of Karelia, North West of Russia
Many people, especially in Russia where the use of Shungite originated, place Shungite stones or pieces in their drinking water because of its documented health benefits. They are essentially making their own gem essence with Shungite.
Metaphysical Uses of Shungite:
Shungite is an excellent grounding stone. Its high vibration helps to bring your spiritual body down into the physical plane so that you can better integrate cosmic wisdom and karmic lessons. Shungite is a powerful cleanser and banishes things from your life that may be draining your energy. Once these things have been removed, you can rest without the chaos weighing you down and drawing your attention away from things that are deserving of your energy and attention. Shungite is well known for claims about its ability to purify energy. This ancient stone is even used to charge and purify water. Shungite encourages you to learn more, to do more, and to push onward toward the next spiritual breakthrough. It's also associated with great cosmic mysteries and is said to bring light during times of darkness or uncertainty.
One Way to Work with Shungite:
If you're struggling with stress, anxiety, or feeling overwhelmed, try wearing a piece of Shungite jewelry. Any time you're feeling overwhelmed, bring your attention to the place where the stone is making contact with your physical body, close your eyes, and focus on your breath. Breathe in for a count of four, hold for a count of four, and then exhale for a count of four. This deep, rhythmic breathing will bring you back to your center and will help create stillness in your mind.
Shungite Ritual:
To connect with the ancient wisdom of Shungite, place some dried Lemon Verbena leaves and a Shungite stone in a small pouch and tuck it into your pillowcase. Before you go to sleep, set the intention to experience and remember a meaningful dream that will provide you with guidance about something that needs to be healed in your life. It's said that Shungite holds ancient energy, wisdom, and information, so it's the perfect stone to help you uncover the cosmic messages that come through for you from the Akashaic Records.
SHUNGITE is a stone with a strong connection to the Earth, which makes it a good aid for grounding. However, it not only opens and stimulates the Base Chakra, but it, also, triggers the opening and stimulation of the Earth Chakra. Therefore, it is not only a good grounding stone, but also is a strong aid for spiritual grounding. 
SHUNGITE has a strong mystical energy. It will help anyone involved with magical and mystical practices.  It's deep primordial energy embodies energies of ancient spirits, which come into play in a protective role during magical work.
SHUNGITE is a great protector, a guardian and a body guard. It infuses the auric field with light, which shields the holder with a coat of black permitting only positive and beneficial rays to come through.
Shungite is linked to our Root Chakra, known as the Muladhara Chakra in Sanskrit. This is the energy we associate with entrenching ourselves to Mother Earth, and the core foundation of both physical and spiritual evolution. Using Shungite has multiple effects on the body, including activation of all 7 "main" chakras. Its used to detoxify the body and rid the mind of negativity, while contributing as a cleanser as well. Shungite is a must have for people with difficult and uncontrollable emotions, as well as any form of anxiety or depression.  It allows for light to fill the body and make negativity extremely difficult to form. 
CHAKRA(s): All (Stimulates Earth Star, Root, Sacral & Solar Plexus Chakras)
ENERGY:
Personal Power
Healing
Protection
Grounding
PROTECTION:
Shields Against Electromagnetic Radiation (Computers, T.V's, Mobile Phones, etc.)
Absorbs Anything Negative
Dispels The Shadow-Self
Disperses Negative Attachments
STIMULATES:
Rejuvenation
Protection
Guidance
Spiritual Growth
Transformation
Healing
Spiritual Elevation
Lightbody Activation
Raise in Vibrations
Higher Consciousness
Spiritual Grounding
Centering
Adjustment
Telepathy
Psychic Protection
Positive Blessings
Understanding
Gratefulness
METAPHYSICAL PROPERTIES:
Connects one with Earth energies and Earth elements
Infuses the aura with light
Will emphasize the gift of prophecy
Grounds and centers one's energy to the core of Mother Earth
Shield the holder and removes all negative energies from a space, or place
Remove outside negativity and negative thoughts
Helps clear and balance each Chakra individually and then as a group
Wonderful aid to balance higher energy work
Opens the channel to communicate with spirit while keeping one grounded
Aids one in maintaining a healthy balance of sensibility and reality while still able to dream big
Eliminates current beliefs that do not serve in the highest interest of an individual
Sensitive people will be able to discern its inner language as it "speaks" from a higher dimension
The darkness of its black hue will evoke ancient memories connected with the Moon Goddess
Its elemental force connects with the Spirits that work with it
Can dispel the shadow-self one carries
Energy depletion is restored through the curative nature of Shungite
Balances the polarities that tug and pull at one constantly
Heals the lower energies that many still carry within the auric field
A catalyst for positive change and growth
Will balance conflicting energies that will arise during the shifting to higher rates of vibration
Helps one find the ideas and wisdom to use towards the better future of creation
Brings a sense of understanding how one became oneself
Helps one to find the good in all and to see the benefits in the smallest of thing's
HEALING PROPERTIES:
Alleviates Heart Difficulty
Aids Allergies
Slows Down Cancer Cell Growth
Soothes Skin Diseases
Slows Down AIDS/HIV
Stimulates Hair and Skin Rejuvenation